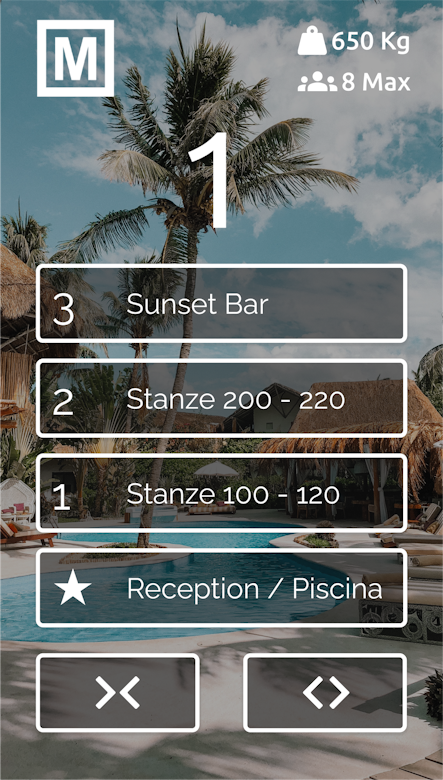 CREATE A UNIQUE EXPERIENCE FOR YOUR GUESTS
Aquarius Touch
Welcome to the ultimate solution for enhancing the guest experience in your hotel. Our elevator touch display is specifically designed for hotels like yours, offering complete customization and advanced functionality.
Dimensions: 12" 15" 21"
A Unique Experience
Tailored to Your Hotel
Aquarius is designed to allow hotels to fully customize the guest experience, adding a distinctive and unique touch to your environment. Customizable features include:
Custom Backgrounds with Personalized Images
Each elevator floor can have a unique background with images that represent the aesthetics of your hotel. Choose captivating photographs, artwork, or custom designs to capture the attention of your guests.

Adding Video or Advertising Slideshows
Promote your services and products directly inside the elevator. With Aquarius, you can insert promotional videos or slideshows that inform guests about your services, special offers, or events.

Display Your Logo
Showcase your hotel's logo proudly on the elevator display. Every time your guests use the elevator, they will see your brand, reinforcing recognition and trust in your hotel.

Button and Color Customization:
Choose colors that represent your brand and corporate identity. Customize elevator buttons in harmony with your design, creating a consistent aesthetic throughout the hotel.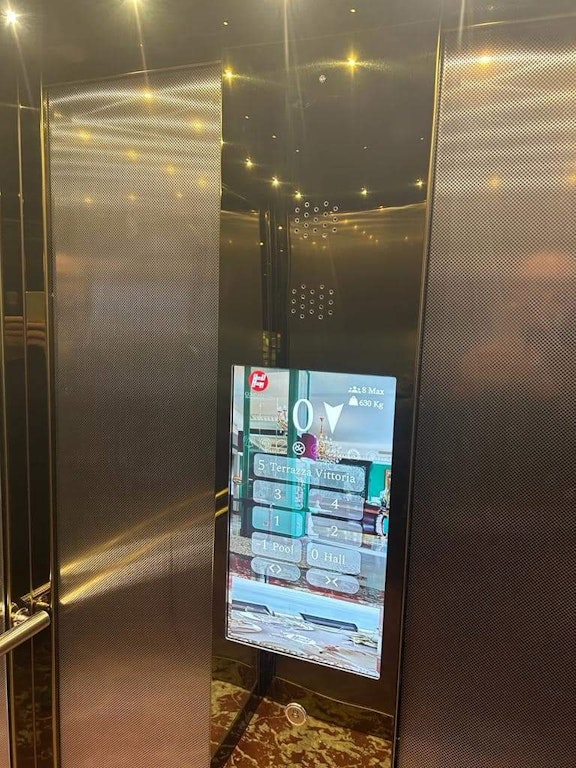 Reflect Your Hotel's Style
Inspired by our scenarios
Aquarius is designed to allow hotels to fully customize the guest experience, adding a distinctive and unique touch to your environment.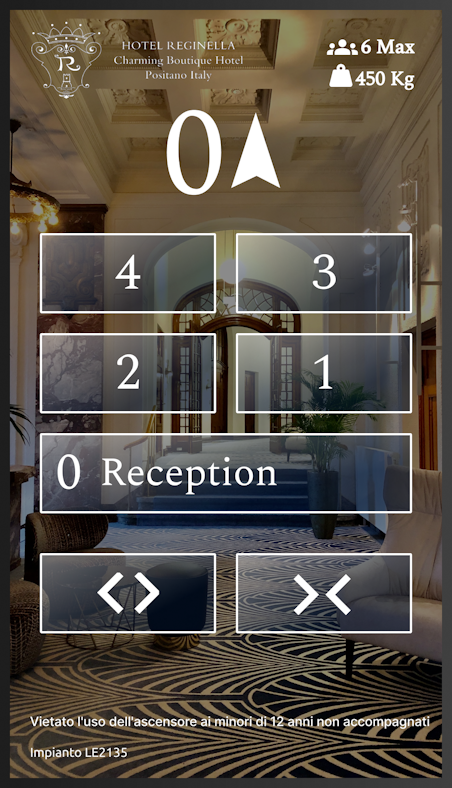 Luxury Experience for Your Hotel
Aquarius Elevator Touch Display is already a proven reality in luxury hotels in Italy, from the stunning Amalfi Coast to Positano and Amalfi.
Join us on this extraordinary adventure to offer unparalleled hospitality. Choose Aquarius Elevator Touch Display and transform your hotel into a technological masterpiece.
Elevator Safety and Control in the Hotel
Discover how Movilift, in collaboration with innovative technologies Tokyo and Elevator Status, is redefining the future of elevators in hotels. Ensure your guests a safe and worry-free stay with maximum elevator control and safety.
Tokyo
Tokyo is a powerful multifunctional keypad capable of reading fingerprints, RFID signals, and 4-digit passwords.
Ensure maximum security and control to provide an unforgettable stay for your guests.
Block access to staff-only floors and allow guests to go only to their room floor.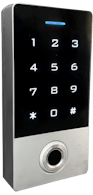 Tokyo
Multifunctional Access control
Access Control
Elevator Status
Elevator Status is a cloud-based service that allows hotel managers to monitor elevator status in real-time from the comfort of any device.
With Elevator Status, you will have a complete overview of elevator operation, including details of the floors they are on, door status, and direction.
Moreover, you will have the ability to make remote calls, ensuring a safe and hassle-free travel experience for your guests, such as calling the elevator to the reception during check-in.
Choose Elevator Status for total control and efficient elevator management in your hotel.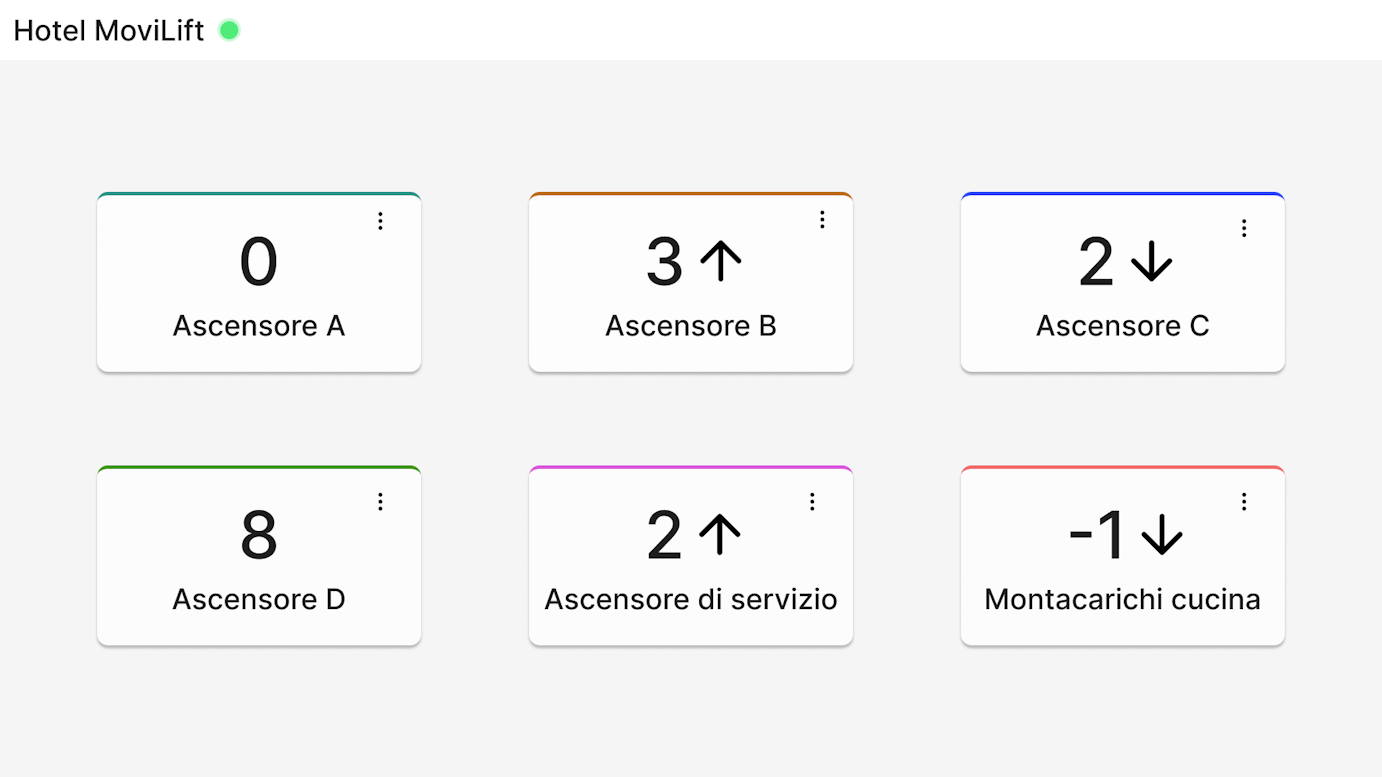 Meet Us at the "Hospitality" Fair in Riva del Garda
We are excited to announce Movilift's participation in the hospitality fair "Hospitality" in Riva del Garda, which will take place from February 5th to 8th, 2024.
Visit us in Riva del Garda from February 5th to 8th, 2024, and discover how Movilift is shaping the future of hospitality, ensuring an extraordinary and safe experience for your guests.
Discover the Future of Hospitality. Choose Aquarius.
Enhance Your Guests' Experience Today and Make Your Hotel Unforgettable.