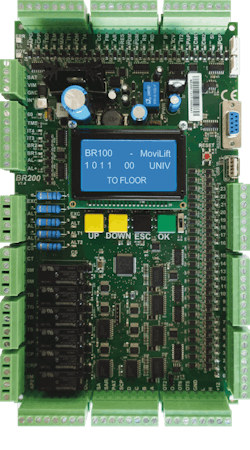 Tarjeta controladora paralela
BR200
BR200 es nuestra tarjeta controladora de conexión en paralelo hasta 12 pisos con maniobra colectiva bajada. Para instalaciones con más de 12 pisos se necesita una tarjeta expansora.
Dimensions: 150mm x 255mm
Application
BR200 is best suited for modernization projects, as it's application is based on the robust designs of older controllers motherboards, bring new life to old elevators thanks to BR200, its programming keyboard allows the maintance team to keep the downtime to a minimum and to solve any difficulity.
Movilift provides a 2 year warranty and an expert technical assistance team.


Features
For Hydraulic, Electric, Platform, and Gearless controllers

Suitable for serial call connections and serial and parallel (mixed) signals

Up to 32 stops Down collective

Manoeuvre: universal, simplex, duplex, triplex, quadruplex

In accordance with 95/16/ EC (lifts) and 89/336/ EC (Electromagnetic compatability)

Ideal for wiring controllers
Get a fast inquiry
Fill a inquiry or book an appointment with our sales team